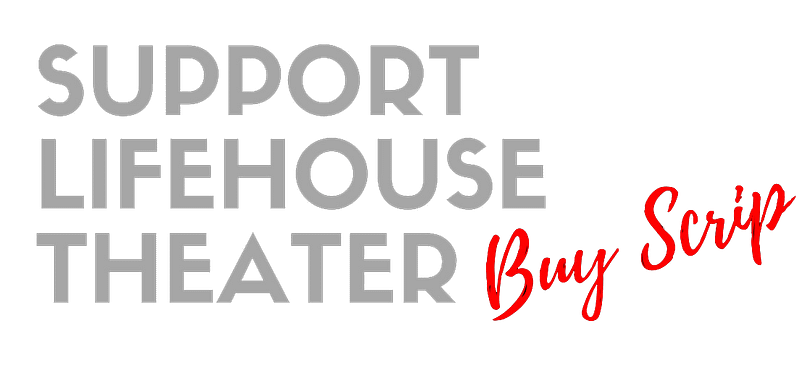 WHAT IS SCRIP? Scrip is using gift cards instead of cash or credit at businesses.
You can now help support LifeHouse Theater by purchasing gift cards through Redlands Christian Schools. A percentage of every dollar goes to LifeHouse Theater and to Redlands Christian Schools.

Participating organizations and their donation percentages can be found here.
Purchasing Scrip is a great way to help LifeHouse Theater and Redlands Christian Schools. Scrip fundraising gift cards are the same gift cards you would normally purchase at any of the country's 500 largest retailers and they work the same way. You'll find cards you can use at grocery stores, gas stations, restaurants, movie theaters, home improvement stores, and almost any business that accepts gift cards. Virtually anywhere you shop will accept some form of Scrip.
Using Scrip couldn't be easier. You purchase gift cards for places where you plan to shop and use those cards instead of cash or credit. LifeHouse Theater and RCS earn a percentage of every dollar spent using the scrip gift cards to help LifeHouse Theater with their lease on the theater. As an added benefit, many Scrip users find that they become smarter shoppers by using the gift cards and planning ahead for every purchase.
To create your Scrip account:
Go to wwww.redlandschristian.org
Click on Support RCS>Scrip Program>Request Online Ordering Access
Enter your name, email and contact phone number

Under ACA/RCS Student's name, enter "Lifehouse Theater"

Click Submit
An email with login and ordering instructions will be sent to you in 1-2 business days
For questions call:
Lower School 909-793-0601, ext 347
Upper School 909-793-0601, ext. 113
SCRIP Office Hours
Lower School Campus

1145 North Church Street

Redlands, CA 92374

Upper School Campus

105 Tennessee Street

Redlands, CA 92373

Monday – 7:30 to 10:30 am

Tuesday – 12 to 3:30 pm

Wednesday – 7:30 to 10:30 am

Thursday – 12 to 3:30 pm

Friday – 7:30 to 10:30 am

Pick up ONLY

Monday – 2:30 to 3:30 pm

Tuesday – 7:45 to 8:45 am

Wednesday – 2:30 to 3:30 pm

Thursday – 7:45 to 8:45 am

Friday – 1 to 2 pm