Wayne R. Scott with Dane Bundy
Recently I got to interview/interrogate my good friend and colleague, Jeff DeWitt, on our brand new podcast, "The Dramatic Difference." Jeff is our General Manager and our Artistic Director.
He shared with our listeners what it's really like to stage a musical at LifeHouse Theater. We had a good laugh as it's not as easy as it looks.
(And contrary to what some guests think, no, our actors do not just walk on stage and create their dialogue and lyrics on the spot.)
Despite all the planning—months and months and months—there are always challenges lurking behind the scenes during the run of a musical.
When No One's Looking
That's why I think LifeHouse Theater would make a great Reality TV show. You'd be astounded at what our volunteer storytellers do, especially when no one's looking.
If you've played a role in a stage play, you know the hours before a musical opens is always a hectic and hurried time, to put it mildly! These times reveal the true character of those involved.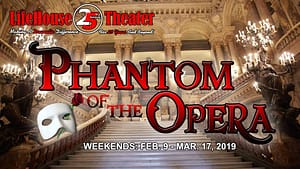 I'm reminded of right before "Phantom of the Opera" opened our costumer discovered our two principal actors getting ready for the show in an unusual way.
How You Think They'd Act
You'd think due to the significant weight they carry on their shoulders, they'd be curled up in a corner or barking orders at others, but that's not what she saw. Haven Fair, who plays the Phantom, was singing to himself while ironing the pants of a young cast member. Alisha Doussett, who plays Christine, was helping a cast member with her makeup—even though she still had to finish her own!
While some Reality TV reveals man's depravity and filth, I'm convinced that pulling back our curtains would unveil true humility and kindness just like this.
Your generous support and contributions have allowed us to continue telling stories like this — on, off, and behind the scenes.
If you're an alumnus of LifeHouse and think it'd make a great Reality TV show, what would you name it?
---
Buy tickets to "Phantom" or another LifeHouse production now!
---