Wayne R. Scott with Dane Bundy
Who rules the universe? Chance or God? I looked at these questions in my last post.
In this post, I'd like to trace the themes of chance and God's sovereignty through three stories.
The Avengers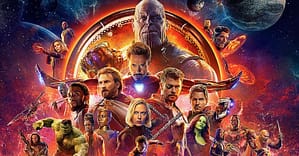 In the newest Avenger's film–Infinity Wars, we're told that chance had a place in the origin of the universe. Jason Wong, the friend of Dr. Strange and fellow-protector of the Time Stone, offers an explanation of how the universe came into being,
"At the dawn of the universe, there was nothing…then…boom. The Big Bang sent six elemental crystals…hurtling across the virgin universe."
If chance — and not intelligence — brought the universe into existence, how might that affect the people who live in it? If chance rules the universe, can anything in it, including human beings, have real significance or meaning?
Waiting for Godot 
To consider the last question (Can chance bring about meaning?), I'm going to point you to the modern classic Waiting for Godot (debuted 1953), written by the Nobel Prize-winning author Samuel Beckett. The plot of this play is terribly simple.
Two men wait — the entire play — for a man named Godot to arrive. But Godot doesn't arrive and the play ends. 
Sound a little bleak and nonsensical? That's the point. I think Beckett's making the existential point that our reliance upon God ("Godot"), or the Judeo-Christian worldview or the ideas underlying the West, has gotten us nowhere.
God is not arriving to solve our problems; the universe is nonsensical, without meaning. Would you pay the price of a ticket to see a play in which the whole point is that the universe has no point?
Hamlet
We're going to shift back some centuries. As times change, so do ideas about the world. These ideas ultimately filter into culture, including the arts. Here's an example from my favorite play, Hamlet.
Written during the Reformation era, Shakespeare believed the world was not ruled by chance but by God. Hamlet makes the following statements:
"There's a divinity that shapes our ends" (Act 5 Scene 2).
"[T]here is special providence in the fall of a sparrow" (Ibid.).
While at times Hamlet wasn't pleased with God's sovereignty, he always feared it. God's involvement in the universe gave Hamlet a meaningful structure to live by.
Do you see the shift in thinking that has taken place from Hamlet to Avengers?
Can You Think of Other Examples?
---
This is an excerpt from "Phantom of the Opera From a Christian Perspective." Read the full article.
Buy tickets to "Phantom" or another LifeHouse production now!
---
Would you like to have a say in our 26th Season?
Cast your vote now with our digital survey!
---