On Today's Episode
Wielding a satirical sword, Wayne gives you simple steps on how to act and direct in a way that makes you look great on stage…because, of course, it's all about you. On a more serious note, Wayne offers tips on how to stay spiritually hydrated during a production and how to write your own musical.
Sponsored by LifeHouse Theater On-The-Air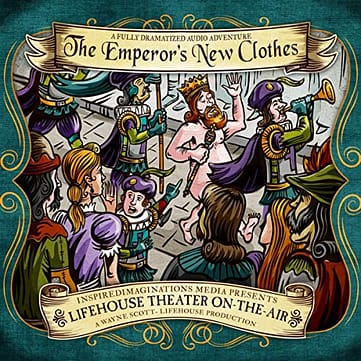 This episode is sponsored by LifeHouse Theater On-the-Air, featuring "The Emperor's New Clothes." You can find all of our offerings at www.TheaterOntheAir.com, Amazon, and iTunes.
Listen to a preview on YouTube!
What Do You Think?
If you like The Dramatic Difference give us a rating on iTunes Podcasts or wherever you get your podcasts. If you love it and want more, share with a friend.
If you have an idea for a topic or would like to submit a question to be answered, email the show's producer at dane@lifehousetheater.com.