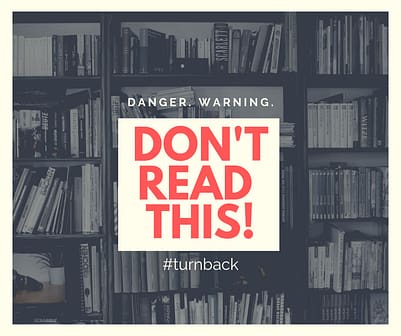 Wayne R. Scott with Dane Bundy
In this series, we look at the current LifeHouse Theater production through the lens of the Christian perspective. 
---
This morning, a book tried to convince me not to read him. For so early in the day, I thought it a little rude.
Breakfast to Remember
It was during breakfast and my eye caught his cover. I walked over to him, flopped him on his back, and read what he said about himself. Usually, books want to be read: "Over here! Over here! Look at us! We're so much better than what you're streaming on that device." But this book wasn't pleading! This is what his back cover said:
This is not a devotional classic.  It is a dangerous tale: a call to the high stakes of every Christian's journey.  Do not pick it up expecting quaint amusement–it is a story woven through with undeniable truth, great cost, and overwhelming joy.   
Only for the Brave
He was making something very clear: if I was looking for a "safe," "delightful," "feel-good" tale, I  was wasting his time as well as mine. If that's the kind of story I was looking for, I should just walk forward and move onward.
But, if I was brave enough, if I had guts, If I was a real man, I'd open him up and start the arduous journey.  The book looked at me again, without blinking: on this pilgrimage, you'll face terrible truths that will stab your head and pierce your heart.
Count the Cost
Don't read me, he said, unless you've counted the cost: because I promise you…if you finish this journey you'll not be the same person you were when you started. You'll have the opportunity to enter the Celestial City and escape the City of Destruction.
For so early in the day, this was all a little overwhelming. I'd have to be a crazy man to read this book, a crazy-headed coxcomb. But I was intrigued.
Unfortunately, I was out of time. Tonight, the curtains open on "Pilgrim's Progress" at LifeHouse Theater.
Tell me, do you know anything about this bold book that dares me not to read it? Would you open him up and start the journey?
What About You?
Have you encountered some of the trials Christian faced? Can you think of instances in the Bible when we're asked to count the cost?
---